Haven't been here in a while. Busy crocheting, trying to keep up on Crochetville, and get some school stuff done. hmmm....what have I been up to?
Crocheting lots of dishcloths for the
Circle of Friends
CAL on the 'ville.

Making shirts for a Family Reunion.




Tye-Dye shirts with my brother and sister




Flower and butterfly shirt I made for my sister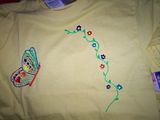 I also taught my sister to crochet last night, she was doing pretty good, but we'll see how it goes.
I think that's it for the moment.