Been working on lots of different crochet projects as usual. Got several projects completed, and still more in the works!
Here's a wedding cake I finished in two days for the wedding this coming Sunday.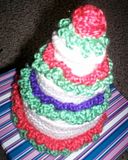 My boyfriend and I are also working on a kitchen set for the rest of the present. I made hotpads and designed a napkin ring. I've still got 3 more napkin rings to make, and Chris is working on knitting placemats and has 3 more to make. I hope we get everything done in time!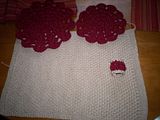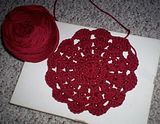 My shopping spree. I got lots of goodies on clearance at Michael's and AC Moore.
The goodies I got from my Accessories Swap Partner. I've been using the lovely pink purse all the time!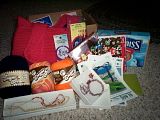 And of course a whole arsenal of Butterflies!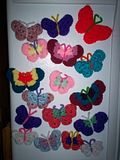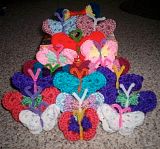 Don't forget these cute toys for the
Toy Drive
.
A cute little knit baby hat! My first major knit project aside from a scarf for last Christmas.