I got another package from my Secret Pal on Wednesday. Well, it might have arrived on Monday or Tuesday, but I didn't get home until Wednesday.
I got a beautifully crocheted round ripple that reminds me of the sun! I LOVE IT!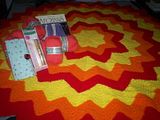 There was also a package of Clover soft touch hooks and Afghans for all Seasons
AND... 10 balls of The Leader in lovely coral color.
This is what the ripple looked like when I got home from work tonight. It looks like it is glowing!