Here's the wonderful package that I received from my Spring Secret Pal.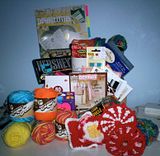 We barely started the spring swap when this box arrived, and it had all of my favorite things in it!
-Lion boucle in Parfait (4 balls)
-Sugar 'n Cream
- Playtime (2)
- Swimming Pool (1)
- Sunshine (1)
- Beautifully crocheted Mug mats (4) in red, my FAV color!!
- Crochetville Mug filled with hot cider and cappuccino packets
- Tea variety pack (all my favorite flavors)
- Ferrero Rocher (I'm addicted to these things)
- Giant Hershey's w/ Almonds (love these as well)
- Ladybug note pad with magnet
- Post-it flags
- Letter A Post-its
- More Post-its Heart, Flower, and Leaf shaped!
- Kangaroo keychain
and last but certainly not least
- Bernat easy living with crochet pattern booklet
- LA contest favorite dishcloths
- free pattern sheets (knit and crochet)
Thanks so much Secret Pal!!