Not much to show for my crafting this time around, but I do have some photos of the flowers in my messy garden. My FIL planted the garden when the in-laws were living in this house, and we haven't done much with it since. I added one plant, and I try to weed every now and then. Here are some photos of what we have growing at the moment.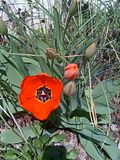 And some project updates: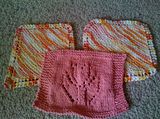 These are a few face cloths I've made for the Adopt-A-Mom collection we have going on at work. We are going to try and put together some Mother's Day gift bags with various goodies in them.
Here's my latest find at the $1 store. They had a great variety, so of course I had to get too many of them. But I didn't have any girly ones in my stash, so now I'm set for a while. They need to be bordered.
That's it for the moment. Hope to have lots more flower photos, and even more progress pictures for my crafts, or better yet, maybe some FO's!